Helpful Hints
A collection of tips and tricks to help you with your entries.
Encoding
By: Mark Bogdanoff
Published August 26th, 2011
Preparing a video can be confusing, especially when there are so many variables to take into account. What size the output should be? What codec to use? And for goodness sake, how do you get this thing to be under the 10 megabyte upload limit?? By the time you've finished reading through this article, you should have all the information you need (and maybe even a bit extra!) to make sure your video meets all of the 11 Second Club's technical requirements.
One last note: There are many ways of encoding your video for submission to the contest, and you are welcome to choose whatever method works best for you, whether it's an MP4, Flash Video (.FLV), DivX (.AVI), or some other method (mkv, ogv, webm). This article outlines the steps that have yielded successful results for us time after time. Feel free to play around with the settings and find your own workflow. If you find something that works well, let us know here: GitHub.
The steps in this article assume that you are using Handbrake to prepare your submission. Handbrake is a free and open-source cross-platform video encoder, available for download at Handbrake's site. If you want to encode using QuickTime, see our older instructions here.
First we'll need to setup Handbrake with our preset. Here we go!
---
Step 0 - Setting up Handbrake
First, download and install Handbrake here: Handbrake Downloads
Then, download and unzip our preset file here: Handbrake_11SecondClub_Preset.zip
Then, we need to import it into Handbrake. Do this by selecting Import… from the Presets menu: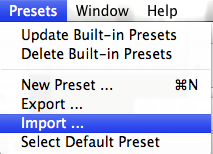 Choose the Handbrake_11SecondClub_Preset.plist file you just downloaded and you should see the "11 Second Club" preset in the presets section of the main Handbrake window:
That's it! When you go to encode your animation, just be sure this preset is selected. Continue on for help on how to use Handbrake with this preset!
---
Step 1 - Select your file and preset
We start off with our movie at the original size we've rendered it out of our animation software. The 11 Second Club advises that all submissions be 560 pixels in width by 316 pixels in height, or a compatible 16:9 aspect ratio, eg. 640x360 is a standard 16:9 aspect ratio. However, you can render out at any size, and using any aspect ratio (4:3, 16:9, and others are all fine). Our Handbrake preset will automatically size your animation for you!
Here is the file we're starting with: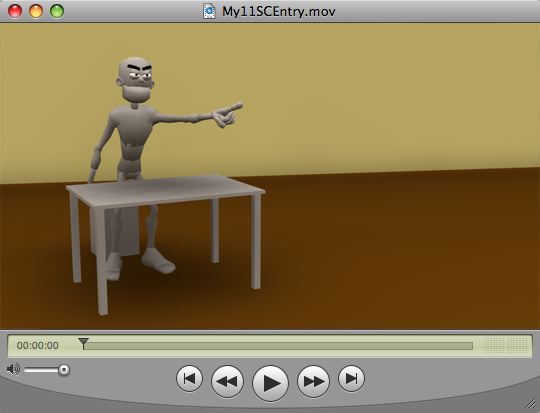 Our rendered animation is 640 x 360 pixels, and the filesize is 121.4 MB, well over the 10MB limit required for all 11 Second Club submissions.
---
When you open Handbrake, it will prompt you for your video file. Open it and continue. If you don't have the open dialog, click the Source button in the main window.
In the main window, choose a destination for your encoded animation: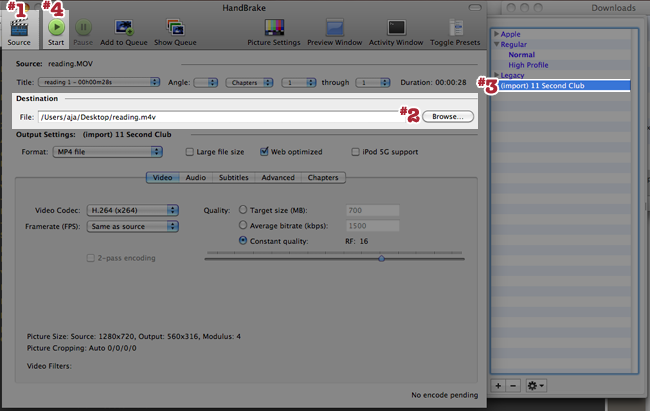 Be sure to select the 11 Second Club preset we imported above!
---
Step 2 - Encode!
Now that you've selected your animation, its destination, and the preset, all that's left to do is save the new file. Click the Start button at the top of the window!
You may have to wait a minute or so for Handbrake to fully encode your video.
---
Step 3 - Examine The Final Output
With our animation exported into its new format, it's time to check the file to make sure we're satisfied with it. Here's how my new file looks: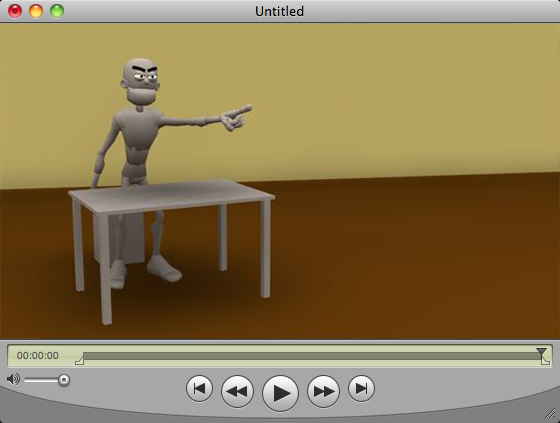 It is now 560 pixels by 316 pixels, which is the correct size for 11 Second Club competition entries.
Watching through my video several times, I notice that there is hardly any evidence of quality loss in the picture. That's the magic of the H.264 codec.
Finally, the big test: filesize. My original animation file was 121.4 megabytes. After all of this tweaking of the settings, the final filesize comes out to be... 912 kilbytes!! That's much smaller, and well within the parameters for uploading to the 11 Second Club!
And there you have it: 3 simple steps to get your video exported, saved, and ready for voting. So, what are you waiting for? Enter this month's competition now!
---
- 11 Second Club
comments powered by

Disqus