Peter Nagy
Interview conducted by Eric Scheur
After each month's competition, I e-mail the winner to see if they would be interested in being interviewed about their work. The response is always positive, and I have been pleasantly surprised by how generous each animator is with their time, and their materials. It tells me that animators want to share and learn from each other, and when they have an opportunity to give back a little of what they've learned, they are happy to oblige. I love it.
This month, however, Peter Nagy has gone far and above the usual generosity of our 11 Second Club winners. In this month's interview, look forward not only to thumbnail sketches and pose studies, but also to video reference, frame breakdowns (from Peter's winning piece, as well as the inspiration for a section of it), and--get this--eleven (eleven!) inspiring clips from movies that Peter has meticulously chosen and talked about why they hold such magic for him. Not only that, but the entire interview is also available on Peter's blog in his native language, Hungarian. (you can read it here) Special thanks to Peter's friend, Andrea Gabanyi, for translating Peter's responses into English.
Give Peter's interview a good read-through: there's some great stuff in here. And brush up your chops, because you never know when it will be your turn to stand here in the spotlight. The bar has been set, folks.
Happy animating!
- Eric
How did you get into animation? Was it your goal as soon as you began to draw, or did the enthusiasm for animation come later?
According to a family story, my first movie experience is connected to 101 Dalmatians. I have been drawing ever since my childhood. But although I completed my studies at secondary school in graphics, it never occurred to me to be a cartoon animator. I was already devoted to films at that time, and thought perhaps I should move in this direction.
I can thank a small matter that I'm in the wonderful world of animation today: Back in my hometown, Szeged, my mother noticed a small ad in the daily newspaper about an upcoming animation course at the nearby cartoon studio in Kecskemét (Kecskemétfilm). After a previous winnowing, there was an entrance exam that I passed. The course lasted for a couple of months, and during this period did I start to pay attention to animated films more seriously.
Talk about your career so far.
I started with the basics, for which I'm really grateful. I was an inbetweener in the beginning. The films I worked in are rather known in Europe. My first serious job as a cleanup artist was: Corto Maltese: The Looters of the Golden Train (Corto Maltese: La cour secrète des Arcanes), a French feature film. After finishing this movie, I got some news from Budapest about an upcoming series: Mr. Bean: The Animated Series. I was asked to do a test piece which was accepted, so I moved to the capital. I had the chance to work on this project as a supervisor.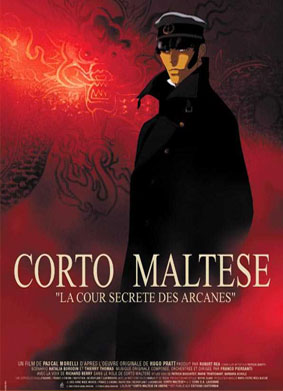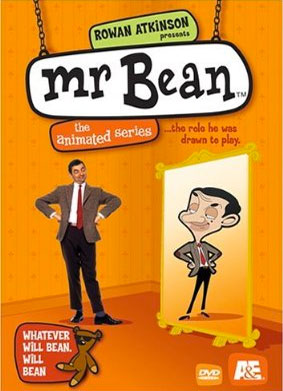 Further films I cherish include: the Swedish Pettson och Findus 3: Tomtemaskinen (this was my first animation job) and Toot & Puddle: I'll Be Home for Christmas, an English direct-to-video film about piglets. The last production I took part in that got into the movies was the second part of the classical Hungarian cartoon: Macskafogó' (Cat City). I animated an elderly character in that one.
Where do you find inspiration and influences?
When I was at the course and we watched short films, the Aardman Studio plasticine-films really impressed me. One of my first experiences is the My Baby Just Cares For Me jazzy video with cats. I also tend to do meticulous work, and I was just amazed how much patience and persistence is needed to make the stop-motion world come to life.
There are so many fantastic animators that it makes it so difficult to choose only one [influence]. From all the animation film directors perhaps I like Brad Bird most. He started his career as an animator, and it was always sympathetic when somebody knows the rank ladder from experience. Sometimes I get the impression that he deliberately makes fun of his animators. He asks impossible things from them, but somehow they come to fruition at the end. He can bring the best out of the people, which might not be easy during work, however, the bigger the glory when completing each scene. He did the best films with humans.
There is always something different that has an effect on me: sometimes it's beautiful editing in a film, or the handling of the camera, or sometimes a subtle quiver on a face. I [discovered] Al Hirschfeld on the Aladdin DVD, who is also compelling, especially that he was active for so long!
Otherwise I'm a big live action fan. I'm not too picky: I like the best from any genre. Charlie Chaplin's figure has been on the throne for a couple of years now. He also had that wonderful ability to tell everything only with his action, in the language of pantomime. I adore silent films and burlesque since this genre, with its exaggerations, is very close to animation.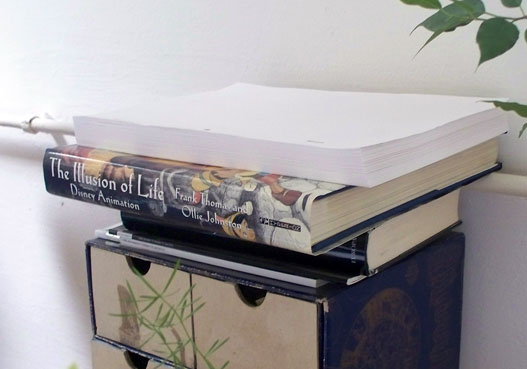 Talk about one or two scenes from an animated movie or television show that you can watch over and over and never feel the entertainment level drop.
Okay. I thought it over and I simply unable to mention only one or two! But basically, my favorite scenes are those where I don't have to understand the dialogue in order to understand the situation. This is also a big test in animation: if we turn off the sound, can we guess only from the gestures and facial expressions what the story is about?
We all know that an animator's desk is full of toys. What do you have surrounding you?
Hahah! :) I love toys! I cannot deny, when a new animated film is at the cinema, I'm always there in those fast-food restaurants, standing in the queue of children, trying to get hold of the toys they offer with the children's menu. Just one more thing, on my first trip abroad I took the fluorescent-eyed Mike Wazowski with me. The toys won't let me diverge from my childhood and ease everyday life.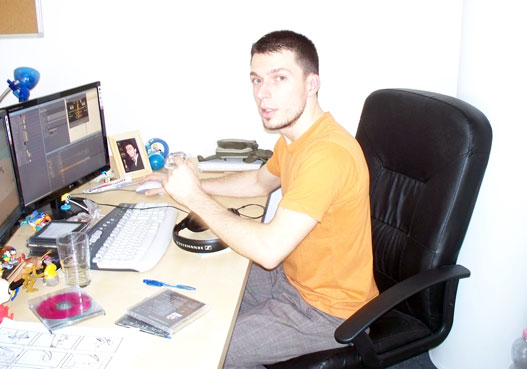 In the description of your entry, you wrote "It's a pleasure to draw! Anything can happen if you're drawing." Can you talk a little more about the freedom of drawing versus what you experience in CG?
It was absolutely fantastic to draw again! I switched to digital animation in 2008, I had not drawn anything since. Thank God I managed to get the run of it again quickly, and I enjoyed it so much that I wanted to proclaim it from the rooftops! I adore traditional technique, but I forgot a bit about it in the past 2 years. The best thing about drawing is that you can do anything. You can simplify things wonderfully, and if you think you can continue [using visual] symbols in the successive scenes.
At the moment, I feel that 3D animation is more difficult. My possibilities are limited. For example, so far I could not work with characters that I can stretch freely or to whom I can give subtle facial expression, if the animation requires it. But digital animation also has its advantages. It might not seem so important, but it made my work easier: for example, I don't have to pay attention to the mass (in 2D animation no matter how long a scene is, you have to keep the body's proportion and mass throughout). Something just pops out of your head and you simply draw it. In 3D you need a team to do the same thing (as I experienced it in my previous competitions). So if I think of a short film for example, 3D is more about teamwork, whereas with traditional technique you can solve the task yourself.
How did you come up with the concept of everything changing throughout the shot?
As soon as I heard the October audio, it immediately came to my mind that it could be illustrated really well. The dialogue almost called for this kind of realization. While I was brainstorming about how I would get some paper for the animation, I had two starting points: either the Devil himself is going to talk to us, or the Devil, dressed in suit. I started searching for reference, and two characters came to my mind from the Silver Screen: Mephisto, from F. W. Murnau's Faust in 1926 and Death from Ingmar Bergman's The Seventh Seal. Although he was not the embodiment of the Evil, I really like his simplified appearance, and I knew from the beginning that I wanted to tell the text almost symbolically.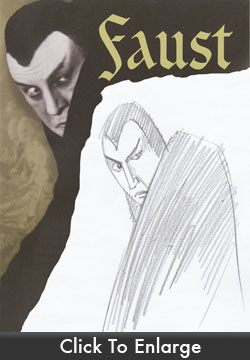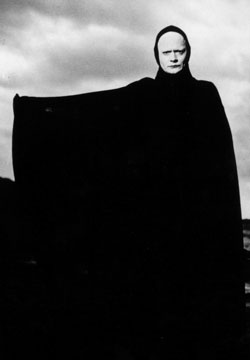 Finally, I did not want to make the bad guy unambiguous. That's how the figure of the TV promoter was born.
Talk about your animation process for this piece.
As I mentioned earlier, I started searching for pictures immediately on the internet. Also, I looked through several animated films, looking for a similarly built character to the one I imagined.
After I drafted the main poses, I took them into my computer, and linked them so that I could see it together with the voice, and how much time will I have for each pose.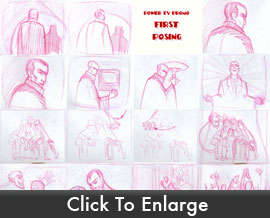 Then I played the audio, and recorded the scene a few times, and the lipsynch separately. At the preparation stage, I collect everything in a separate folder: the most sympathetic character designs, simplified pictures of the bed, and everything from yoga poses to atomic explosions, (at this phase, I wanted to illustrate "power" with an explosion), from clothes to hands.
Near the end of the preparation stage, I watched 3 films the most frequently. It is hard to detect the effect of The Emperor's New Groove on my work, although I studied the hands in it.
The other two are Aladdin and The Iron Giant strange as it may seem. It is because the TV promoter is a very close relative to the negative character of that film, inspector Kent Mansley.
My colleague, Csaba Pépp offered his help from the beginning, and he linked the frames together in [the animation software] Toons in good quality.
I love how slimy this character is-- from his expressions, to his hair, to his personally tailored suit which says a lot about the kind of person he is. How did you begin to envision this character?
Based on the voice, I imagined a tall figure with a longish face. As he pronounces "...luull..., and to paciifyyyy..." words in a dazing voice, this took me in that particular direction. I thought of a character who is an impressive performer and the best [salesman]. He can talk you into anything, as he dazes you with his voice and style, and he creeps into your mind before you even notice, and takes control. In the beginning, I had a handsome man in a suit, but he did not have any particular feature – the hair helped a lot.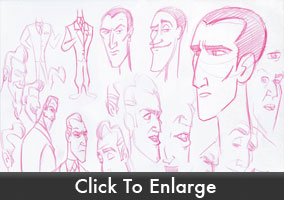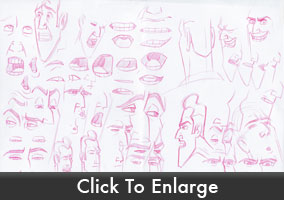 I really like your pose on "pacify"--especially since this is the moment when the audience recognizes that we are no longer in a literal location, but in this man's mindspace. It's a very symmetrical pose, but there are some very subtle bits that keep it from twinning too much (his hair, his eyebrows, the tilt in his head). Can you talk a bit about how you go about building a pose for a character and keeping good asymmetry?
That's why editing was needed in the animation, to move to this world step by step.
Since I progressed linearly in my work, this part came to realization quite slowly, because a lot of drawings were needed to set the movements in this drawn-out text. The movement of the character might be a bit boring here, but in context of the whole piece, it is placed at such a point that it is not disturbing, and I managed to fling it up with the location elements.
I have to pay attention to asymmetry in general. I didn't manage to apply it in this scene, especially at the beginning. I deliberately left rough key drawings in, where the first sketches are visible (you can see a red mass under the cleaned-up drawing). My original plan was, when we reach the end of the "pacify" phrase, the features of the character continually clear out and simplify until his figure is only a few distinctive lines in front of the ray of light. However, I didn't manage to fulfill it entirely.
From frames 261 - 274, I really love how the character enters the shot in a very amorphous shape. It reminds me very much of how the Genie in Aladdin would move from pose to pose. Talk about animating in this style, and coming up with his moves and gestures in this moment.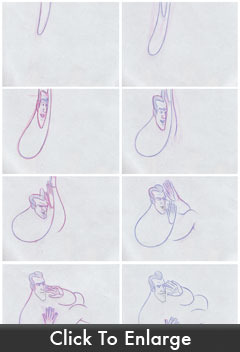 I really liked drawing this part, partly because I was over the frightening part of doing the brain transformation. I had the chance to carry out an experiment here! I haven't done this kind of stretching before. Since my character moved a bit stiffly in the previous scene, a little shift in the style was possible here. After he pulled his hand in front of the dazed family, I had to bring back the figure, so that he could catch the brain and step into the next scene with the globe. I wanted a little floating here, like he was a ghost and this was matching with this floating in, as he enters.
And yes, I watched Mr. Goldberg's work all over and over again in Aladdin.
How have your peers helped you with this scene?
After I was finished with the animation and cleanup, I scanned all the drawings in good quality. After that, the frames landed with Csaba Pépp, who linked them in Toons. I wanted alittle spatial with the zoom in, so that is to his credit, too. If I had several options, I would always ask his opinion. It is very useful if you have somebody who is objective, and he can see the effect of each scene and can react to your work, what is working and what is not, or what is strange.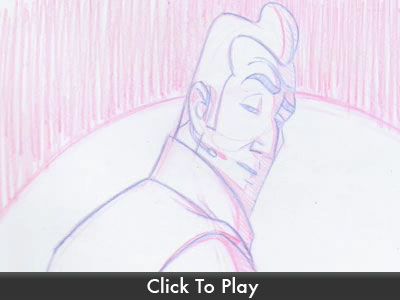 Did you find yourself struggling with any part of the animation?
In the beginning I was most afraid of the moving of the brains. My main concern was, (and this only cleared up in the last days before uploading) how would I portray "power." First I thought that a mushroom cloud should burst out from the fist of the promoter, which would have transformed from the TV itself. Then I thought that a bolt of lightning would strike the TV, and electric sparkles would pierce it through. The TV would have grown bigger, but it seemed rather complicated to carry out. This was the part I asked most people about at my workplace. I asked them point blank, during lunch or early in the morning going to work. Finally, I decided to go with the simplest version, the flickering lightning, and to my surprise, it disturbed nobody. Later, with the sound, its function became obvious.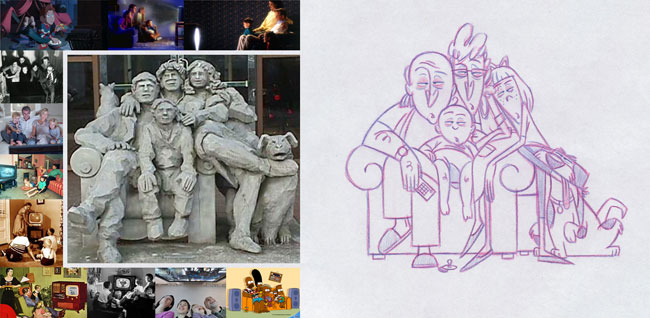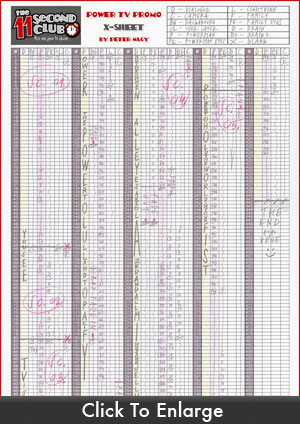 Talk about any new concepts you were introduced to (or re-introduced to) through the eCritique.
Thanks to Mike Walling for the critique!
I definitely have to pay attention to some important things. In the middle, I completely forgot about the facial expression.

So Mike is right, I could have exploited it to support the body movement more. I have to watch out so that my drawings are not boring and symmetrical. Since I did not go to a professional animation school, sometimes I have to be reminded about the arcs. But in my future work I will try to pay attention to avoid the same mistakes.
Is there anything you'd like to add about your thought-process or experience in October's competition?
After the voting, when the announcement of the results came, I was so nervous that I went to the cinema instead. I ceased all contact with the outside world and went into the safest place to watch Inglourious Basterds again. I saw this film immediately before the uploading of my first competition piece, but I couldn't concentrate on it. When it ended I switched on my mobile phone with trembling hands, and immediately came a message from one of my colleagues that I won!
And the film was good, too! So I was in Heaven!
In the picture below you can see my always–devoted-and-determined project manager (on the left side) with the completed scenes, and my master who is my personal trainer as well.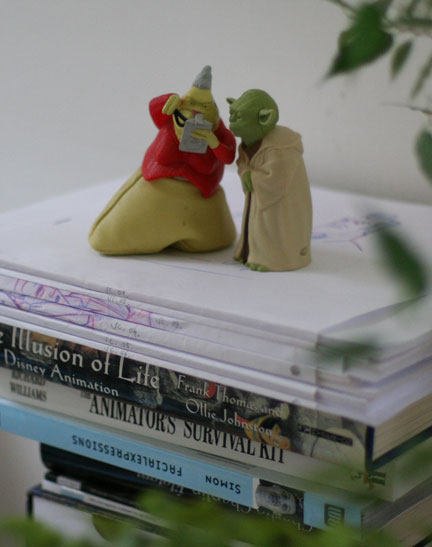 What advice would you offer to someone who was just starting their animation education?
I'm going to mention some simple, trivial things.
First of all, sit bolt upright! Especially if you sit in front of the computer a lot, and don'' forget to blink. Seriously! If you want to produce in this wonderful profession for long, you have to pay attention to these things, too.
Be persistent! And don't be frightened of bigger tasks. Dare to set about it. It might sound commonplace, but it's true: the first step is always the most difficult. If you get past that, the rest just comes spontaneously. If you are working under deadlines, you have to find the right order, not to run away from it.
Watch the work of professionals, and a lot of animation. Take a closer look of your favorite scenes step by step, frame by frame. Then watch those scenes which at first did not arouse your interest.
Finally, some inspiring citations which escort me in my life as well as in my work:
"There is no impossible just incapable!"
That's from an anonymous author. Or as I heard it from Tom Hanks in Philadelphia:
"Every problem has a solution."
And...
Don't give up 5 minutes before the Miracle!"
I heard this when I was collecting material and looked through several films and extras. I'm not sure who said it.
And I would like to thank again Csaba Pepp's help in my work, and for Andrea Gabanyi the absolutely wonderful and ornate translation - because I don't speak English very well. :)
And finally, for inspiration, here are 11 personal favorites from the multi-coloured palette of the Silver Screen that I can watch anytime over and over: