Rex Fang
Interview conducted by Eric Scheur
Hi everyone,
I know that this interview is coming a little bit later than expected. Sometimes schedules, technology, and plain ol' dumb luck can get in the way of the best efforts to keep things on track.
But here we are once again, and despite a crashed hard drive, Rex Fang has been gracious enough to answer some questions about his career and his eCritique-winning entry from December 2008. His animation shows that sometimes, all you need to do is put two compelling characters next to each other and you'll have a compelling scene. No special gags, lighting tricks, extra props, or complicated scenery; just two people in chairs at a table. Watch the way their faces speak to the emotions behind the dialogue and you'll see why Rex's entry was voted the final #1 of last year.
Congratulations again, Rex!
- Eric
How long have you been animating?
I started my animation education at Vancouver Film School from 2002 to 2003, before I started AnimationMentor.
Do you remember the first time you absolutely knew you wanted to be an animator?
I wasn't 100% sure if I wanted to be animator when I first started in Vancouver Film School. Prior to attending VFS, I graduated from the British Columbia Institute of Technology Interior Design program and I wanted to be an interior designer. What I wanted to gain from VFS was to learn modeling skills and take my 2D interior design skills into 3D. Then I watched "Toy Story" and got really fascinated by how the characters were brought to life. After that, I learned more about animation from school--and the more I learned the more I wanted to be an animator.
How did you get started working professionally?
After graduating from Vancouver Film School, I did not have any job offers form any of the studios in Canada. Then my visa expired 6 months after the graduation. So my circumstances had me leave Canada and go back to Taiwan to work for my father's construction company, as was my father's wish. However I didn't give up my dream of being an animator. After working there for 3 years, I decided to take AnimationMentor classes while working in Taiwan. I came back to Canada in 2008 and started looking for an animation job. After 6 months of sending out my reel and resume, one of my VFS classmates who was working at Bardel Entertaiment told me about a short-term contract opening. Shortly after I sent my reel and resume to Bardel, I got a phone call for an interview and was offered a 4-month short-term contract 'til the end of the show. That's how I got started in my animation career.
Do you have any favorite short films, or cartoons that bring you inspiration over and over again?
Toy Story, Monsters Inc., The Iron Giant, Shrek, etc.
The description of your winning entry says that you envisioned a newspaper boss and a reporter--where did that idea come from?
When I listened to the clip the very first time, an idea just came into my mind loud and clear. The backstory is about a young reporter who was supposed to finish her report by today. That's all. That's the first thing showed up in my mind when I listened to the audio clip.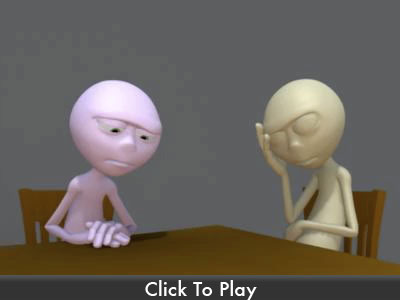 * Talk about your animation process. Do you use reference? Thumbnails?
Reference!! Of course! I always have references before I start. I like to shoot video reference before I start my animation. I record many different versions of my acting and camera angles to see if my idea will work out or not. Also I use the video reference to help my animation blocking at the main poses stage. Once I have my main poses blocked and camera angle locked I shoot more video reference with more detailed acting.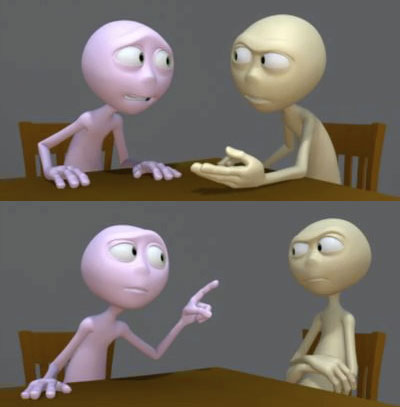 You have a lot of really wonderful expressions going on with the characters' eyes and mouth. Talk a little bit about what you think about when posing the face.
"Make it simple and clear." I block out my main poses with main expressions and I add more detail such as blinks and eye darts later in the polishing stage. I don't have many keys for the expressions. Sometimes I put a lot of facial change in the scene but it doesn't work out very well, because audience needs time to see these facial changes.
One of the more difficult aspects of animating a conversation between two people is what happens when a character ISN'T talking. You have clearly made some definite acting choices for your characters as they listen to the other talk. How do you approach your planning for these moments?
After I blocked the two characters and put them together, I faced a challenge since I didn't plan this in my reference stage. In the real world, people will look at someone who is talking, the same as in the animation. I want the audience to focus on the character who is talking at that time. If I have two characters acting at the same time, that would definitely make the scene unclear and distract audience's focus point. So I tone down the pose changes on the character who is not talking at that moment--small head and eye movements will keep the character alive.
This was your first time entering the 11 Second Club competition. Do you intend to enter again sometime?
Yes, I will enter again sometime in the future. Animation is always fun.
- Rex Fang
Discuss this interview in the forums
comments powered by

Disqus